Happy Houseplant Week! (Yes, it's a real thing)
You may dislike these (almost daily) new holidays that just seem to come out of nowhere. This holiday can relate to our customers, interior designers, and people who own property. In a past blog, we talked about how it is a great idea to incorporate plants and other succulents to either add some green to a room or to fill up room in a space. We aren't really the right people to ask about what plant to buy, but we can help you take the proper precautions to avoid them from damaging your flooring. Like the photos below.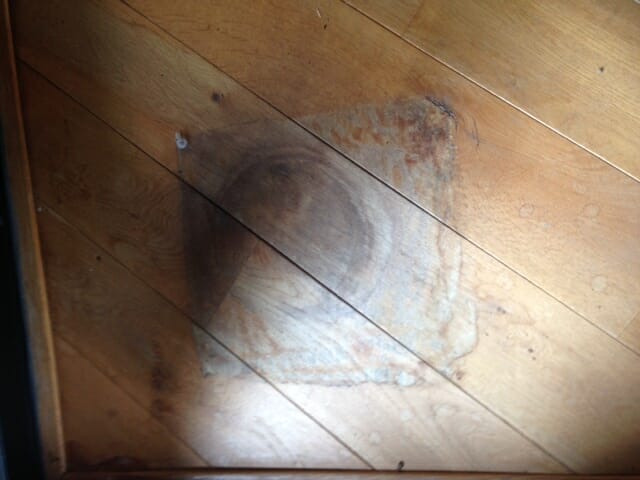 Here are 5 top tips to prevent this disaster from happening on your wood floor.
Always use a waterproof tray under your pots.
When you order plants from stores, they may not put it in a waterproof pot. Be sure to purchase a proper pot before placing on your flooring. Some trays are made of porous clay and though look sealed the water can seep through the clay over time. It would be best to use a good quality plastic tray or a glazed cay tray.
Use a plastic barrier.
If unsure you can cut a plastic sheet to fit under the tray to prevent water from seeping into the wood.
Move your plant
It is a good idea to move your plants every few weeks a little bit. This will not only show if there may be a leak it will also prevent sun damage. In some cases, the sunlight will lighten your floor and areas not exposed to light will remain darker. Moving the pots, a little will prevent this or at least greatly reduce this.
Consider a stand.
It can help a lot to use a stand for your pots to keep them totally off the floor. You may only need a very small stand to lift bigger pots a few centimeters off the floor so you can spot water spillages sooner.
Do not overwater your plants.
Too much water in your plants can increase the risk of leaks and spills. Water a little more often using less water at a time.
These are the beginning steps you can take to protect your hardwood floors.
Have questions about your flooring or interested in purchasing new flooring email MRubinstein@ArkoFlooring.com.